OUR STORY
Zac and Robert have been making our signature bagels with pride for over 12 years and 3 years respectively, pictured here with Sue.
WE MAKE OUR BAGELS FRESH DAILY
CRAFTED IN-HOUSE
FROM SCRATCH
NEVER FROZEN
MADE FROM HIGH PROTEIN,
CERTIFIED NON-GMO,
REGIONALLY GROWN WHEAT
LARGE VARIETY OF FLAVORS
MADE WITH
NO DAIRY, OILS, OR FATS
(UNLESS YOU GET A CHEESY ONE)
Having grown up in southern California, and after many moves throughout the country, Sue Thompson moved to Montana in the mid-1970's and soon established herself as a pediatric physical therapist.
In 1993, Sue decided what Missoula really needed was a bagel shop! The fact that she had a solid career and didn't really know how to run a restaurant did not seem to be a deterrent. A large space in downtown Missoula was found, and the project began. Sean Thompson (her son) was the very first bagel baker and thanks to his expertise and diligance the bagels were perfect from the very first batch.
Sue eventually got out of the therapy profession and concentrated solely on making Bagels on Broadway the very best bagel shop west of Manhattan (New York, not Montana). With eternal thanks to the great staff and loyal customers, Bagels On Broadway has become a true Missoula downtown fixture, recognized by people across the state and across the country.
The dough is made. High protein flour, yeast, and water are placed in a 350 lb commercial mixer.
Additional ingredients such as cranberries, raisins, and cinnamon are added for each individual batch. (We make over 20 different flavors)
The large batches of dough are plopped out on our over-sized wooden table. The dough is rocked and rolled to remove air bubbles.
After being spread out on the table, large strips are cut.
The dough strips are kneaded to create the perfect texture.
The kneaded strips are fed into the bagel former.
Perfectly shaped bagels are then formed.
The bagels are arranged on cornmeal dusted trays then placed on racks.
The bagel dough rests in a large walk-in cooler for at least 24 hours.
Proofed bagels are placed on baking boards where they are finished with seeds or other yummy toppings to prepare for baking.
Bagel racks are placed in our special rotary steam oven to give them the perfect golden brown shiny crust and chewy inside. We can bake up to 600 bagels per batch!
Good enough to eat...
Getting closer....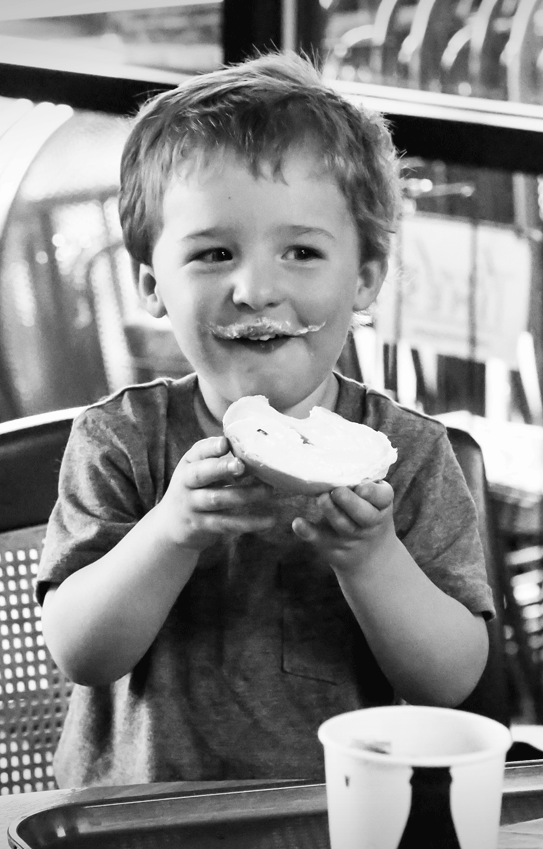 Finally, yum!